Dragonfly Farm Does For Sale
updated 3/30/14
If you are interested in any of the does on the first fresh or junior doe pages, feel free to let me know of your interest, and I will contact you if your choice becomes available.
I won't offer a doe as show quality unless I really believe it to be true. As most of us do, I have a continuing population problem!
June, 2013 (first freshening)
I thought this was one of the most striking kids of 2011. Tuan has produced consistently beautiful general appearance in his daughters, and Galaxy is no exception. She won her junior leg handily from a large class at her very first show. Freshened with a small but very well attached udder, very high in the rear (LA score of 37 for rear udder height).
Boy, do I hate to let this one go. Not only have I always thought she was beautiful, but she has one of the most winning personalities here. However, reductions must be made, my sanity is at stake. Take a chance on her, at the very least you will fall in love with her sweet temperment.
$500.00 currently dry, sale pending TT.
Show record: 1 x 1st, 1 x GCH Jr. (Bob Bartholomew, Topsfield Fair October, 2012)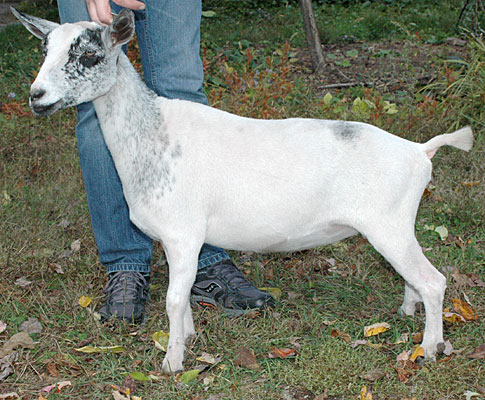 | | |
| --- | --- |
| | |
A very difficult kidding left this doe kid almost completely limp. She was tube fed for several days while she slowly came to life, starting at the nose and working backwards (which is why she is still affectionately known as "Dishrag"). At 5 days she could stand if you stood her up, and nurse from a bottle on her own. At one week she stood up by herself, and at 9 days she walked. By three weeks of age, she seemed almost perfectly normal except for her left hind foot, which persisted in knuckling over so that she walked on the front of her pastern. We splinted this foot using a small finger splint; two weeks later the splint came off for good, and now you can't tell that there was ever anything wrong with her. She was able to be shwon at the 2011 National show and was third in her class. Then, hard luck case that she is, she injured her shoulder and was three-legged lame for over 3 months...X-rays revealed no injury to the bones or shoulder joint, soooo...we waited. Time seems to have healed the injury, however, and she is sound again, enough that she won RGH Jr. in October 2012. She is a tough little bird.
I'm hoping that this breeding will produce an udder similar to her close cousin Electra's, since this is a similar combination of Luck ofthe Draw with one of his sisters, in this case MCH Twin Creeks LS Pixie Fern. Paloma resembles her dam to a striking degree--compare this dry yearling photo to the shots of Snowbird as a dry doe on her page. "Just like Mom" but with a bit more capacity would be just about perfect, I think.
The above story has to tell you how hard it is to let this one go. She also has a terrific loving temperment, although she does hate to walk on lead. Pictures of her udder and full body in milk coming soon. Another doe with a nice first udder who I think may deserve a bit better LA score, and who I believe will improve greatly with additional freshenings.
$500.00, now in milk. Her gorgeous 2014 doe kid also available, $450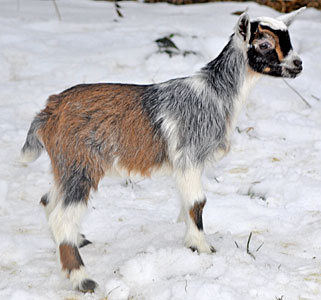 E6, Paloma's doe kid by Sugarman, born 1/15/14
Show record: 1 x 1st, 1 x RGCH Jr. (Bob Bartholomew, Topsfield Fair October, 2012)
This kid is out of a doe I co-own with Lorene Toth of Sunnydale Farm, and is sired by a full brother to our own Solaris. Her dam has a perfectly gorgeous mammary but not the greatest general apperance, and I really think that Zen Moon has added a lot in that area, and dairy character as well. She also has the sweet temperment that I love about her dam, and though dam raised she was beautifully socialized, as are all of the kids born and lovingly raised at Lorene's farm.
Like Ginger, above, Cinnamon is just not quite as nice as others in her age group. She did very well in the show ring as a junior doe, and has freshened with a nicely attached udder with very good capacity for a yearling first freshener with a single.
$450.00, currently dry
Show record: 1 x 1st
Show quality dry yearlings:
| | | |
| --- | --- | --- |
| DOB 3/16/13 | extended pedigree | LA |
This kid was looks so much like her illustrious grand dam Ariadne thatit is hard to sell her. It's not her color, mind you...I think she has that beautiful rump structure and strong front end that made Ariadne so special. I also had this strange reaction to most of the Holy Bull daughters from this year...they were all so stunning, I had a hard time selling ANY of them.
Show record: not yet shown
$400.00
| | | |
| --- | --- | --- |
| DOB 6/16/12 | extended pedigree | |
This Electra granddaughter looks eerily like her, right down to her neck which at this age looks a little short. However, she also got her dam's sweet personality, which is a bit of an improvement over the fiery Electra, though she hasn't been handled very much this year. Tiaki was the wife of Tiki, the creator of all children in Maori mytholgy.
Oh, boy I will probably be sorry I sold this one. $500.00
Brood doe quality/Family milkers: